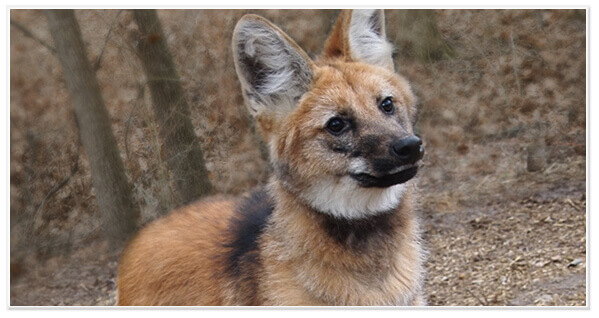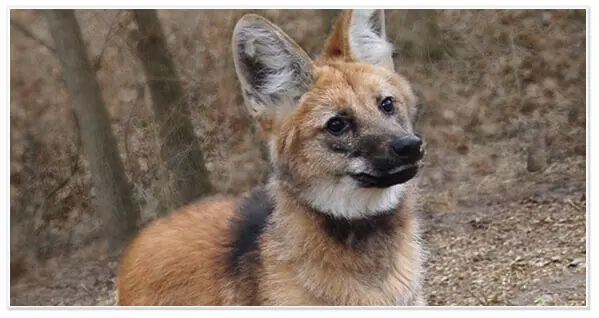 I am…the first of a kind, from a breed that's one of a kind. I look like a fox, though I'm not. I'm named for a wolf, but not. What I do know is that I am one lucky lady.
I am Lucky
Lucky is a rare maned wolf whose story almost never started – yet became one for the history books. Lucky was the only surviving pup of a rare maned wolf at Zoo Boise who was unable to raise her litter. Weighing in at less than a pound, her keepers worked frantically to hand raise her, knowing cross-fostering would be her only hope – something never before done with maned wolves. With our expertise, the Endangered Wolf Center got the call.
As luck would have it, a domestic dog mom with a litter close in age and size to Lucky became one of the most important members of our team. Domestic dogs make great foster moms because they can provide similar milk content, speak a canid language and display valuable behaviors. Jacqui, a sweet Labrador mix, bonded with Lucky immediately, nursing and caring for her as one of her own. It may have been her first lucky break, but it would be far from her last.
Lucky's personality makes her the perfect ambassador for her species. Never before has a maned wolf been available for human interaction – up close and personal – to educate the public about the species. Maned wolves look like a fox, yet they're actually neither a fox nor a wolf. In fact, maned wolves are in a class of canids all their own. And unless you've been in the savannas of South America, chances are you've never seen one in the wild.
Lucky and her keepers are happy to share her story, which is not only heartwarming, but an example of the critical, cutting-edge conservation efforts at the Endangered Wolf Center.
Lucky continues to live up to her name, from her growing fan base to her invitation to appear on the Today Show in New York City. But we think there's another reason she's an adoptable favorite.
It's because Lucky's story reminds us that there's always hope. That when it's the darkest, that's when the stars come out. And when we look to nature for solutions and open our minds and hearts to finding them in unexpected places, well, that's more than luck. That's where the magic happens.