Private Campfire Wolf Howl
Book a private wolf howl for your special event
Reserve a Private Campfire Wolf Howl 
From scout groups to church groups, field trips to family get-togethers, there's something to be said about gathering around a campfire in a natural setting and connecting with the voice of the wild. Our Campfire Wolf Howls are sure to be an evening to remember.
Tour Highlights
Gather around for a guided, personal event
A private version of our popular Evening Wolf Howl, your personal guide will begin the evening with fireside stories about wolves, why the wild needs top dogs like these to survive and how they communicate. Next, it's off to the habitats.
From your pack to ours
Our guide will then lead you and your pack about a half mile (round trip) to an area near the wolf habitats for the highlight of the evening. There, we will attempt to get the wolves to howl. Our wolves usually answer, but like all wild animals, they are unpredictable and may not respond.
What's included
Please note: You will not have the opportunity to view the wolves during this program. After the Howl, enjoy light refreshments along with an opportunity for you to ask questions and browse our gift shop 
Campfire Wolf Howl Details
Because of the popularity of our programs we do not offer refunds. Should you need to reschedule, please contact our office as soon as possible. If you miss your reservations, we offer a one-week grace period to reschedule. 
LENGTH
2 Hours. Event starts at 7:00 p.m. (depending on the season). Please arrive 15 minutes before start time at our gate.
DATES
We offer Private Campfire Howls every evening except for Tuesdays. Please note: You will not have the opportunity to view the wolves during this program. View our Event Calendar for dates.
636-938-5900 or [email protected]
TICKET PRICE
This special event can be arranged for any private group up to 50 people. A minimum of $400 deposit covers up to 20 people. $15 per additional person up to 50 people. Active/past military, and first responders are admitted free.
RESERVATIONS
Please call 636-938-5900 for available dates and reservations.
SERVICE ANIMALS
At this time, we regret that we are unable to accommodate service animals during our tours. If you or a group member have a special need or mobility need, please contact us in advance.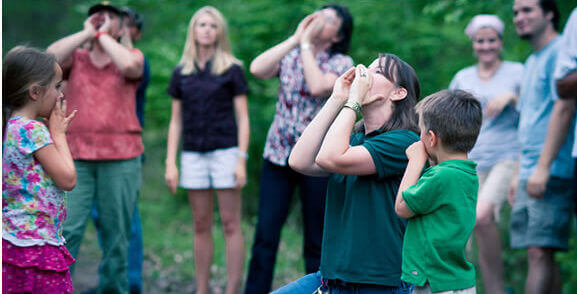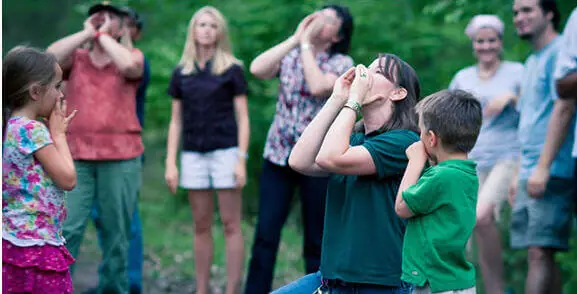 This popular evening program is a fun and educational opportunity to listen to unique and entertaining stories about wolf communication, then try your skills by howling with the wolves.
LENGTH: 2 hours
DATES: Select evenings, please contact the Center at 636-938-5900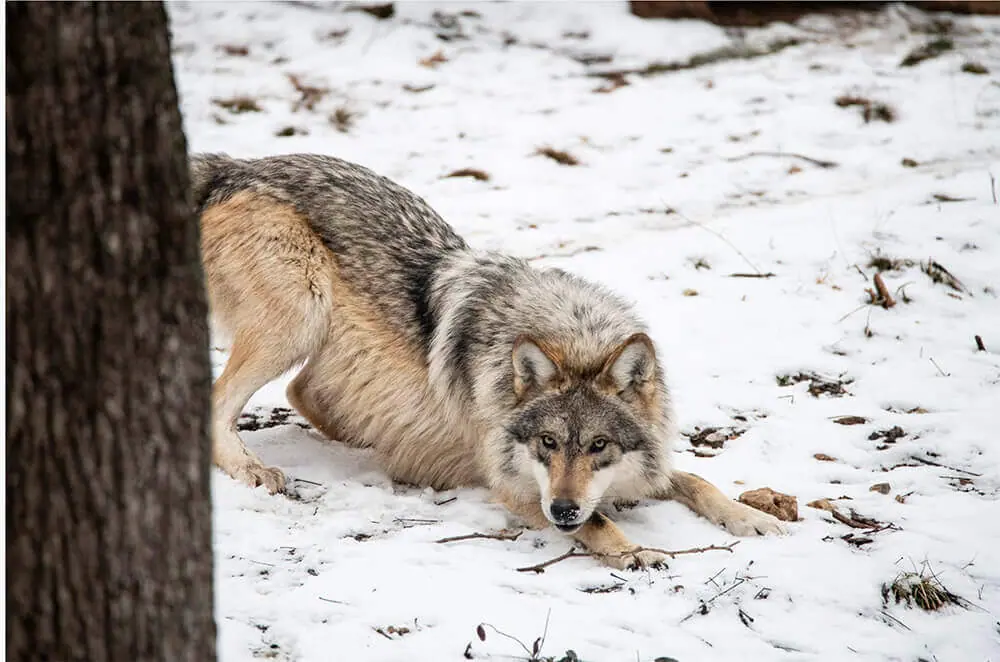 We've partnered with Yoga Buzz to hold an exciting yoga event series for you. Learn yoga in a calm and peaceful setting, and then howl with the wolves.
LENGTH: 3 hours
DATES: Select Fridays, please contact the Center at 636-938-5900
E-Newsletter and Updates
---
Yes, I would like to receive emails from Endangered Wolf Center.
Our office booked this event as a team-building evening and it did not disappoint. Thanks Endangered Wolf Center for such a unique experience. There's a lot we can all learn from a wolf pack.