We'd like to thank our Board Officers and Trustees for their continued support and dedication.
Virgil VanTrease
Board Chair 
Virgil is a long-time supporter of our pack here at the EWC and provides wise counsel and support to our efforts. He has a bachelor's degree from the University of Missouri-Columbia (where tigers are the revered animal) and is president of Eagle Wealth Management, LLC. In addition to his passion for our wolves and other wild canids here at the EWC, Virgil is active with other animal and environmental groups, including serving as a board member of the St. Louis Zoo Association, World Bird Sanctuary and Explore Green and a member of the UMSL World Ecology Center Council. A St. Louis native, Virgil lives in Ladue with his wife, Sandra. 
David Reichert
Vice Chair
David is a champion for all things outdoors. With an MBA from Washington University in St. Louis, he works in the Compliance Division at Edward Jones within the analytics and technology teams. But an avid sportsman and outdoorsman, David is passionate about wildlife and conservation; he is a member of the National Resource Defense Council and the National Wildlife Federation. He and his wife, Maureen, are from the St. Louis area; their two children, Claire and Connor, round out their pack.
Jay Smith
Secretary
Jay is a long-time friend of the EWC, having been involved with our conservation efforts since the mid-1990s. With a bachelor's degree in aeronautical and astronautical engineering from the University of Illinois, Jay's "real" job is as a software engineer in flight simulation at Boeing. But through the years, he has helped our Education team lead tours and campfire events, Animal Care with general habitat maintenance and has attended and sponsored many EWC events. He's definitely part of our pack! Four of our pups have been fortunate to be named by Jay and his wife: a Mexican wolf pup that was fostered into a wild pack in Arizona, an African painted dog pup and just this year two of our Mexican wolf pups. 
Beth Campbell
Treasurer
As our board treasurer and CFO for Wings of Hope, you could say that Beth's passion at the EWC is the support we get from donors! A graduate of the University of Missouri-St. Louis with a BSBA in accounting, Beth also has an MBA in Nonprofit Administration from Lindenwood University – making her a perfect leader in our board pack! Busy with her own pack (she's a mother of five active boys between the ages of 18 and 35), she enjoys traveling, scuba diving and trying any adventure, having dabbled in sailing, smooth water kayaking, flying and ziplining – just about anything outside. Generous with her time and skills, Beth is an active volunteer for charities, including Missouri Jaycees, Wentzville Lions and Boy Scouts.
As someone who spends time fly fishing, hiking and enjoying our public lands, I've experienced firsthand the benefits to biodiversity and healthy ecosystems that apex predators like wolves provide.  I'm inspired by the conservation work the Endangered Wolf Center does to ensure these species' survival so they can play their role in sustaining and preserving wild spaces for future generations!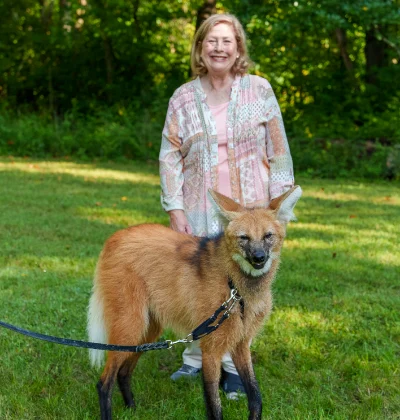 Marguerite Garrick
Trustee
Marguerite is somewhat of a celebrity at the EWC: she is the daughter of our founders, Marlin and Carol Perkins! Fortunate to grow up at two wonderful zoos where her father was director, Marguerite was able to attend the first meeting of wolf biologists here in St. Louis (organized by her parents) and volunteer as a feeder during college. With a major in political science and a minor in anthropology from Washington University, she worked as a wildlife issues lobbyist in Washington, D.C. for 10 years before her first daughter was born in 1985. Since then Marguerite has served on several boards while raising her daughters, currently as a member of the St. Louis Zoo Emerita Board  – and we're thrilled she's "back home" sharing her time with us here at the EWC! 
Dr. Lisa Kelley
Trustee
Dr. Lisa Kelley is the executive director of the Saint Louis Zoo WildCare Institute, which is the field conservation department of the Zoo. Although a field primatologist by training, Lisa's interest and devotion is with all wildlife species. She grew up in Nebraska, but considers Missouri and the St. Louis area her home; her MSc degree is from Oxford Brookes University in England, both her A.B. and Ph.D. are from Washington University in St. Louis. Active in animal care, she serves on many related committees with the AZA (Wildlife Conservation Committee SAFE Coordinator, Wildlife Trafficking Alliance Committee Member, Living Earth Collaborative, Post-Doctoral Selection Committee), Madagascar Fauna and Flora Group (Fellow), Whitney R. Harris World Ecology Center (Executive Board Member, Secretary) and the Saint Louis Zoo Representative of the Harris Center Leadership Council.
Lisa's family includes two daughters, a Great Pyrenees named Isabelle, and a tortoiseshell cat named Spice.
Dr. Jonathan Losos
Trustee
As an internationally renowned scholar in the field of evolutionary biology, director of the Living Earth Collaborative, and the William H. Danforth Distinguished University Professor in the Department of Biology at Washington University in St. Louis, Jonathan Losos offers his vast expertise to the EWC board. A past director of the Tyson Research Center, Jonathan was more than familiar with our vision and mission on behalf of wild canids here at the EWC. After spending time at Harvard University where he was the Lehner Professor for the Study of Latin America, a professor in organismic and evolutionary biology, and the curator in herpetology at the Museum of Comparative Zoology, he has rejoined the faculty at Washington University – and our pack here at the EWC.
Felix N. Williams, III
Trustee
Felix Williams is a previous owner and executive within the home electronics and advertising/marketing industries. After graduating from the University of Colorado-Boulder with a bachelor's degree in journalism and history, Felix spent many years serving on boards of several schools and a camp for underprivileged children. Today, Felix and his wife, Susan, serve the Donald Slavik Family Foundation, which helps to rescue a variety of animal species who have been injured, saved from bad situations or forced out of their natural habitats and whose goal is to ensure today's wild species are available for future generations.
Rhiannon E. McKnight, DVM
Trustee
An animal advocate by trade, Rhiannon is a veterinarian and the medical director for Vet Stop Animal Hospitals. Born in England, she grew up in Canada where she received her Bachelor of Science and DVM degrees at the University of Guelph. After an internship in Large Animal Medicine and Surgery at the University of Georgia, she stayed in the state to practice large animal medicine for several years before finding her home in Missouri where she practices small animal medicine. Her human family includes two children, Raechel and Rhys.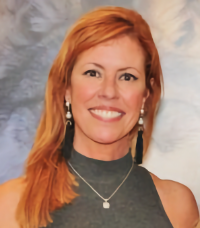 Janet Langley
Trustee
Protecting people as well as animals is in Janet's nature, Janet is a former insurance broker with The Daniel and Henry Company. A native of Lafayette, Louisiana, Janet is a graduate of Louisiana College. She moved to St. Louis in 1993 and spent the last few decades in the health and hospital industry. Janet's passion (in addition to saving wolves!) is Cajun cooking for family and friends.
Sally Kriegel
Trustee
Sally is an attorney and the co-owner of Imagination Toys, making her involvement with our wolves part of her work and play! Sally and her husband, Nick, live in Ladue with a pack of their own – four sons: Henry, Gus, Oliver and Spencer. 
Andrew Baur
Trustee
With experience in online fund-raising and volunteer rallying for goodwill projects around the world, Andrew brings his altruistic nature to the EWC. Although a former banking executive for more than 20 years (Boatmen's Bank, Southwest Bank and Enterprise Bank), he has a bachelor's degree in history with a minor in sociology/anthropology from Salisbury School in Salisbury, Connecticut and Washington and Lee University, respectively – making his involvement with the EWC a natural! Active in numerous civic and philanthropic causes, including Matthews-Dickey Boys Club and Make-A-Wish Foundation, he has served on the Board of Trustees of Southwest Bank, Salisbury School, the Muny Theater and the St. Louis Zoo. 
Christy Marshall
Trustee
An animal lover since she was old enough to feel any emotion, Christy spent her summers at her family's farm in Grubville, Missouri befriending all species of wildlife. She never outgrew the passion. Currently, she is the editor-in-chief of Sophisticated Living St. Louis. After graduating with her masters in journalism, she has worked on magazines and newspapers in Chicago,
Dallas, New York, and St. Louis. A St. Louis native, she came home from New York in 1989 to work on the St. Louis Sun, the ill-fated daily that rose and set in seven months. Subsequently, she went to work at the United States Attorney's Office handling the press. While there, she met her husband, Michael Gans. They have one daughter. When Katie was still a toddler, Christy went back to work in journalism, first at St. Louis Homes & Lifestyles and then at St. Louis Magazine, where she was the founding editor of both St. Louis At Home (now DesignSTL) and St. Louis Family.
Tamara Smith, DMV
Trustee
A passion for animals from childhood led Tammy to her career in veterinary medicine. Earning her DVM from the University of Missouri-Columbia's College of Veterinary Medicine in 1992, she settled in St Louis.  Tammy began practicing with Vet Stop Animal Hospital in 1993 and currently serves as Medical Director of the St. Peters location.  She has the privilege of being part of the veterinary team that cares for the residents of the EWC. Tammy shares her love of animals and the outdoors with her husband, Chris. They have 3 daughters, Emily, Hannah and Megan and currently reside with 2 dogs, Cap and Ellie.
I am honored to be a member of the Endangered Wolf Center team. The Saint Louis Zoo shares roots with the EWC from the establishment of the Center with Marlin Perkins. In addition, the Endangered Wolf Center is a leader and one of the foremost experts in the care and conservation of wild canids-especially the Mexican gray wolf and the red wolf. They are a trusted resource, true conservation heroes, and an asset to the St. Louis community.