From the Arctic to the Sahara, meet the foxes in our care
These Furry Animal Ambassadors Have Stories to Share
We're fortunate to have some amazing animals in our care – and plenty of them have big personalities packed into pint-sized bodies. All the more reason they make wonderful ambassadors to their cousins in the wild. 
Tour Highlights
Meet some pint-sized predators ready to win your heart
Go behind the scenes with the keepers as they train and care for our most adorable and playful residents, our foxes.
In this 30-minute one-of-a-kind experience, guests will learn about our various fox species, their behavior in the wild, the challenges they face and our conservation efforts – all while the foxes play at their feet.
Where are the foxes from?
Foxes from around the world call our Center home. From the arctic to the deserts of Africa, foxes play integral roles in their ecosystems.
What to expect on your tour
During this special up-close encounter, you'll learn about our fox species' behaviors in the wild, the challenges they face, and our conservation efforts. Be prepared for absolute cuteness as our foxes play all around you. And please note, for this experience, long pants and closed-toed shoes are required.
Join us for a wild visit with some of our smallest residents. Go behind the scenes with the keepers as they train and care for our adorable, playful foxes.
LENGTH
30 minutes. Please arrive 15 minutes before start time at our gate.
TICKET PRICE
$125/person
| | | |
| --- | --- | --- |
| | MEMBER | NON-MEMBER |
| Ages 14+ | $110 | $125 |
Please note there is a minimum age for this tour. For member discounts, please call your membership office at 636-938-5900. Learn more about our membership options.
AGE AND ATTIRE REQUIREMENTS
Guests must be 14 years of age or older to participate. Guests under 18 must be accompanied by a paid guardian or parent. Closed-toed shoes and long pants are required for all participants.
SERVICE ANIMALS
At this time, we regret that we are unable to accommodate service animals during our tours. If you or a group member have a special need or mobility need, please contact us in advance.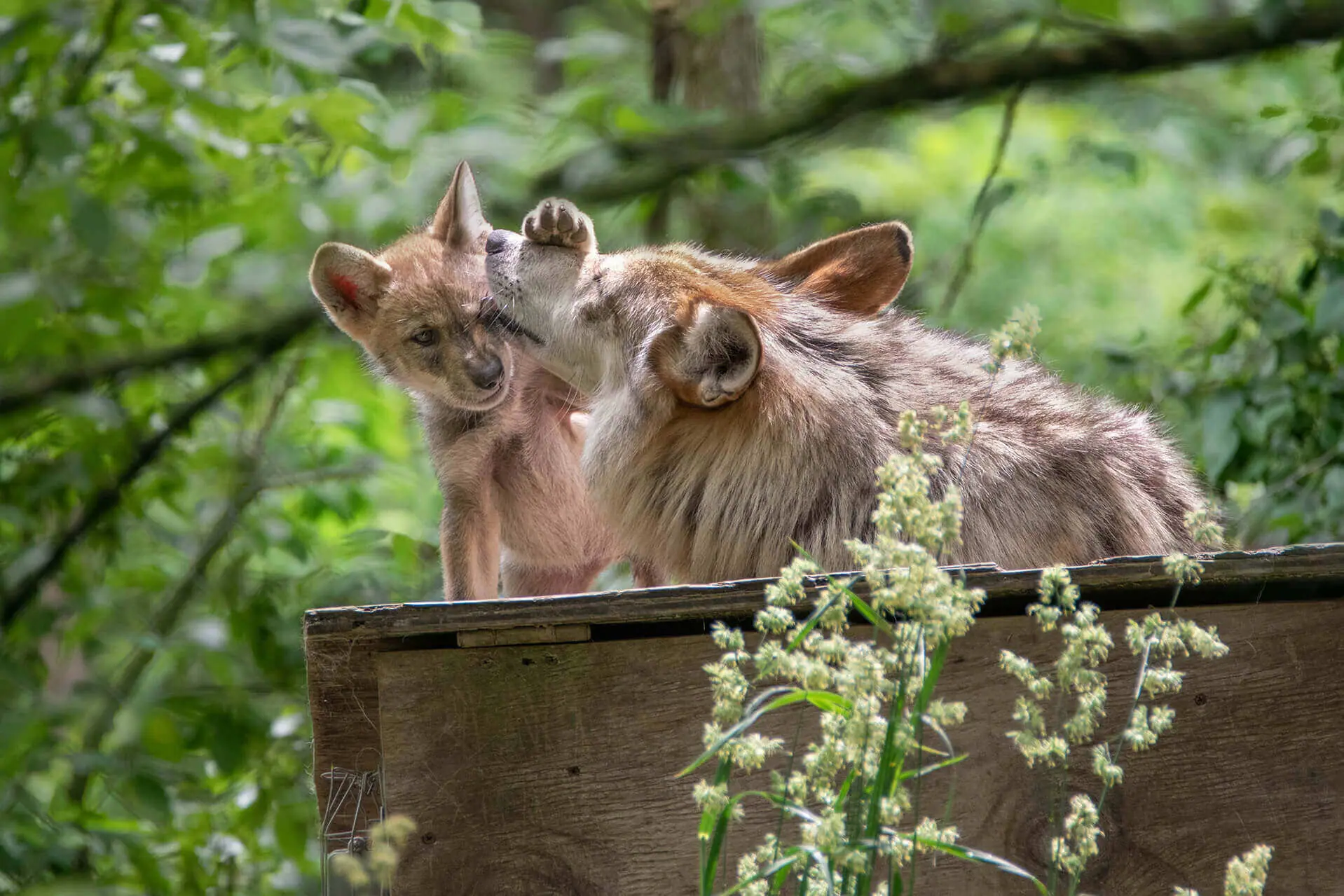 This private, two-hour guided tour is the ideal way to experience the Endangered Wolf Center, with an exclusive look at additional wolf habitats not included in the public tour. Reservations required.
LENGTH: 2 hours
DATES: Daily except Tuesday at 9 am, 11 am and 1 pm.
Our large wolf enclosures have natural, wooded surroundings that provide the ability to get breathtaking photos of Mexican wolves, red wolves, maned wolves, African painted dogs and swift foxes.
LENGTH: up to five hours
DATES: Subject to availability, for reservations call 636-938-5900
My son talked about this tour the whole way home. The best part? It wasn't just about how cute the little fennec fox was. I could tell he had a new respect for wildlife and how important they are in the world in ways he never knew. What a win, thank you.