An evening to relax and recharge in nature
Practice Yoga in Nature to the Sound of Wolves
Join our friends at Yoga Buzz for an evening of movement and mindfulness at the Endangered Wolf Center. This 60-minute outdoor yoga practice is designed to ease your mind and energize your body during the hours when our wolves are the most vocally active.
Program Highlights
Supported by the forest
Science is showing the immune-boosting benefits of spending time in the forest. The tradition of "forest bathing" has been practiced for years in Japan. Whether it's the aroma of the forest, the stress-reducing effects of being in nature or in our case, the call of the wolf, there's something truly special about bringing your yoga practice to nature. We hope you'll join us.
Ticket prices
Tickets are $40 per person. Call 636-938-5900 to sign up or book online.
LENGTH
This evening program will run from 4:30 – 6 pm. Please arrive at the Endangered Wolf Center between 4 – 4:15 pm. Our Yoga in the Woods Class is from 4:30 – 5:30 pm. From 5:30 – 6 pm, guests will have the opportunity to visit our gift shop or continue to hear the peaceful sounds of nature and wolf howls.
DATES
Join us on the last Sunday of each summer month:
June 25
July 30
August 27
September 24

RESERVATIONS
Required, 24 hours advance recommended. Book Online or call 636-938-5900. 
SERVICE ANIMALS
At this time, we regret that we are unable to accommodate service animals during our tours. If you or a group member have a special need or mobility need, please contact us in advance.
Book a private wolf howl for up to 75 guests, ideal for youth groups, scout troops, school groups, team building, birthday parties, graduation, retirement parties, anniversary celebrations and more. Learn More.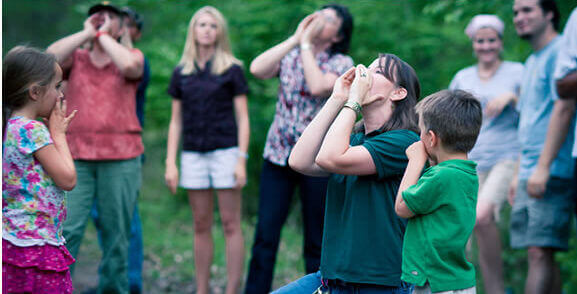 This popular evening program is a fun and educational opportunity to listen to unique and entertaining stories about wolf communication, then try your skills by howling with the wolves. Learn more.