A rigorous, but worthwhile accomplishment
Throughout the past year, the Endangered Wolf Center began the process of earning a renewed certification from the AZA. Of thousands of zoos nation-wide and throughout the world, there are currently only 241 AZA-accredited facilities and 15 AZA-certified facility members throughout the U.S. and 12 other countries. (For a complete list of accredited AZA facilities, please visit their website.)
Accreditation and certification are very similar, but with subtle differences. As a conservation-focused facility that provides educational guided tours, the Endangered Wolf Center falls under the category for certification.
What is AZA?
Founded in 1924, the Association of Zoos and Aquariums is a nonprofit organization dedicated to the advancement of zoos and aquariums in the areas of conservation, animal well-being, education, science, and recreation. AZA is the accrediting body for the top zoos and aquariums in the United States and other countries.
The AZA certification process includes a detailed application and a meticulous, on-site, multiple-day inspection by an independent team of expert zoological professionals. The inspecting team analyzes all aspects of the facility's operation, including animal well-being, veterinary care, keeper training, safety for visitors, staff, and animals, educational programs, conservation efforts, financial stability, risk management, governance, and guest services. Detailed reports from the inspection team and the facility alike are then thoroughly evaluated by the Accreditation Commission. Finally, top officials from the EWC are interviewed by the Accreditation Commission at a formal hearing, after which accreditation is fully granted, provisionally granted for one year, or denied.
During a site visit, interviews, and a panel hearing, the Endangered Wolf Center underwent a thorough review to make sure it has and will continue to meet ever-rising standards that emphasize animal wellbeing, veterinary programs, conservation, education, and safety. AZA requires facilities to complete this rigorous certification process every five years as a condition of Association membership.
"The Endangered Wolf Center is proud to continue as an AZA organization. Certified for more than 20 years, our goal is to not only meet AZA's high standards, but to exceed them," said Mark Cross, Executive Director of the Endangered Wolf Center.

"I am proud of our staff, volunteers and supporters who ensure that the EWC can continue with our important mission to save endangered species. Part of our success is being part of the incredible AZA community. Zoos are on the front lines of conservation and the AZA's SAFE (Saving Animals From Extinction) program and the SSP (Species Survival Plan) has been an incredible resource and partnership for the Center throughout our long history." Cross continued.
Our staff with our renewed AZA accreditation
During the AZA's 2022 Conference in Baltimore, Maryland, Endangered Wolf Center representatives Executive Director Mark Cross, Director of Animal Care & Conservation Regina Mossotti, Curator Sarah Holaday, and Board Chair Dr. Rhiannon McKnight provided final testimonies regarding the EWC's processes and their applications. They were soon notified that they passed the certification process – and with flying colors!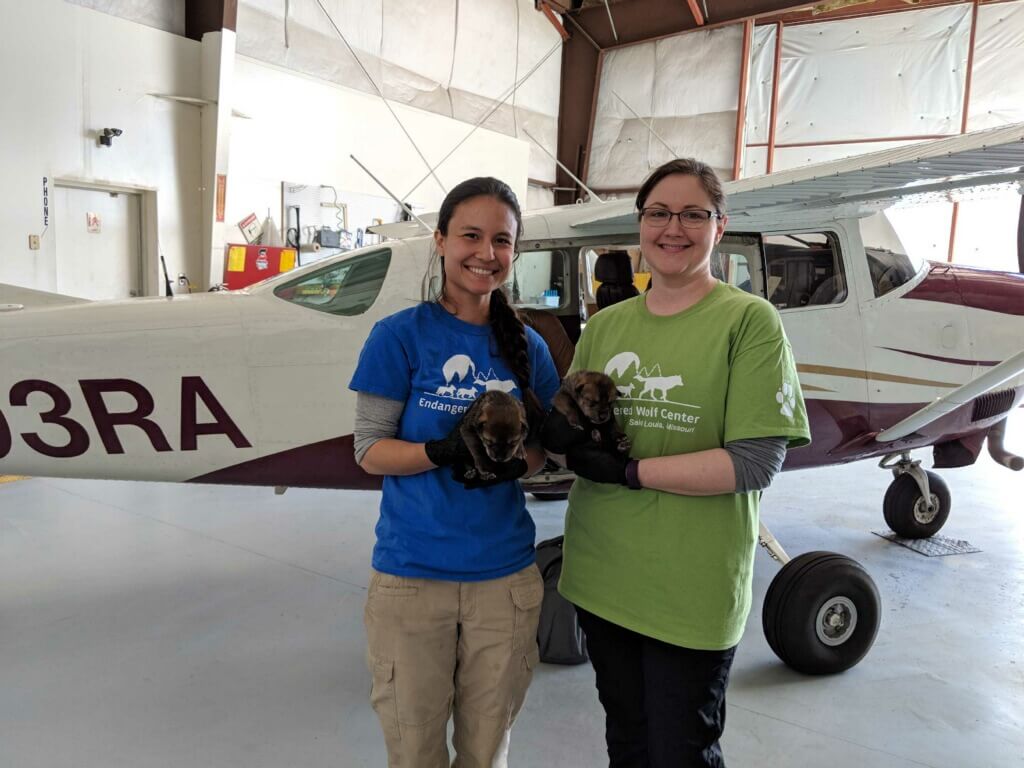 "The Endangered Wolf Center's primary purpose is to contribute to the survival of wild canids, with a focus on Mexican and red wolf reintroductions into their historic ranges. EWC's commitment to their conservation mission was obvious in the collection and the staff. The success with pup fosters, releases and breeding of wolves is one of the more impressive conservation impacts in the Association." - From the AZA Accreditation Commission Report







"EWC is a model example of commitment to SSP and SAFE programs. Staff serve in leadership positions in these programs, and EWC is committed to being a full participant in programs and fulfilling guidelines and recommendations. EWC routinely hosts SSP meetings, conferences/workshops, and participates in SSP sponsored research to advance the conservation efforts for wild canids." - From the AZA Accreditation Commission Report







"The Richmond Family Veterinary and Nutrition Center is a huge addition and advancement to the campus. This center provides spacious areas for diet preparation, diet storage, enrichment storage, veterinary procedures, capture equipment storage, conference room, and office space. There is a spacious lab area available, including a large pharmacy refrigerator and ultralow freezer. This building also contains a bedroom for any staff needing to stay overnight and is equipped with a full staff kitchen and shower facility. The new Richmond building definitely fits the modern zoological standards of a commissary facility. This upgrade in the veterinary and nutrition facility meets the needs for this facility without question and is a beautiful building both inside and out." - From the AZA Accreditation Commission Report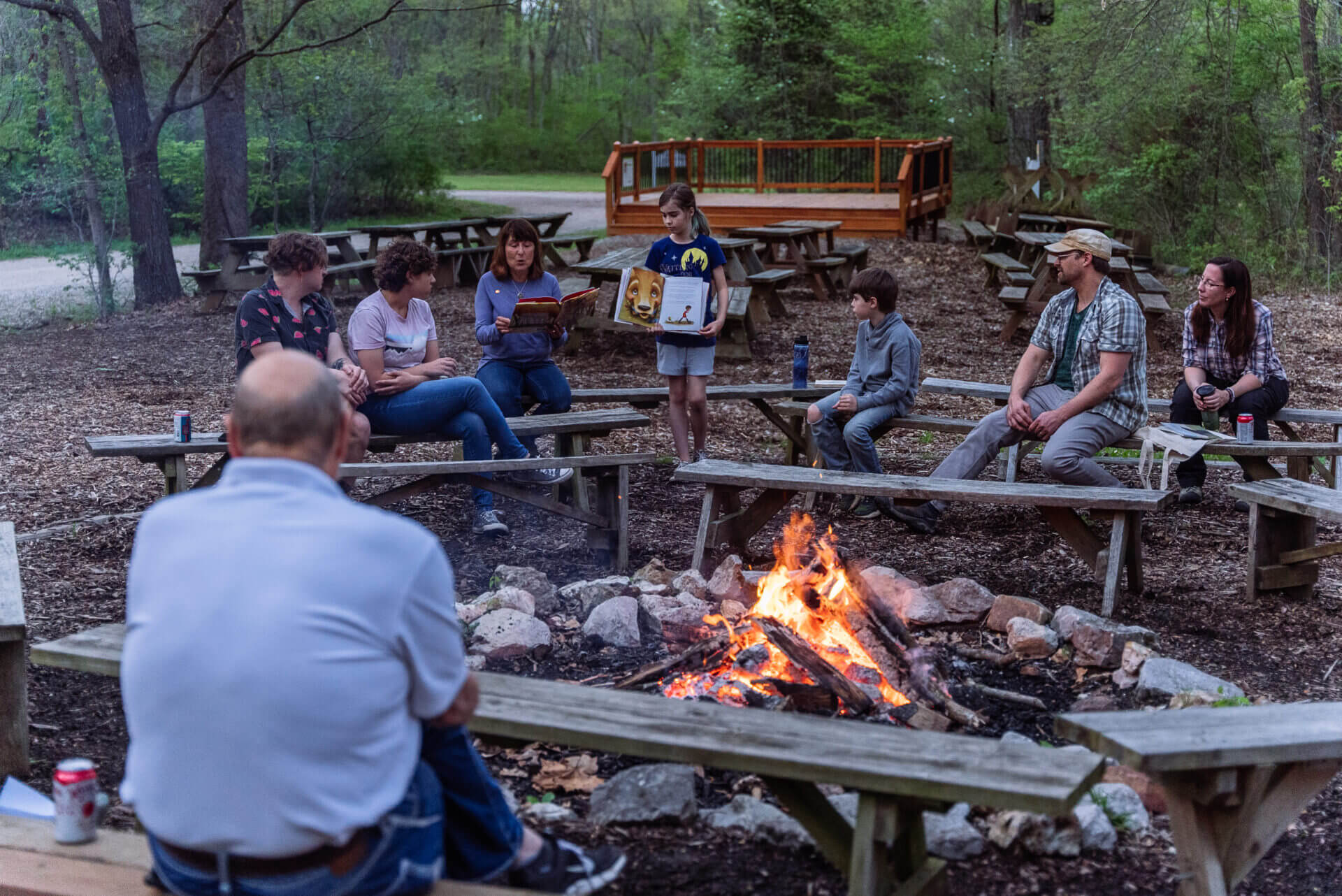 "Two notable education programs are: an anti-bullying program in partnership with a local children's book author and psychologist titled "Big Red and the Little Bitty Wolf: A Story about Bullying" and; "Week of the Wolf," a STEAM (Science, Technology, Engineering, Art, Mathematics) based curriculum for educational outreaches (in person and virtual) that aligns with Missouri Grade Level Expectations for 4th grade. "Week of the Wolf" was recently piloted to 4th graders in an underserved school district in St. Louis with much success in changing students' understanding and perception of wolves." - From the AZA Accreditation Commission Report







"The scientific projects completed since the last certification are impressive for the size of the facility and are in line with the mission of the EWC. The results of these projects are routinely published or presented through various journals and conferences." - From the AZA Accreditation Commission Report







"The Board is both engaged and passionate about the mission of the organization. The Board has set its priorities: fundraising, recruitment of more diverse board members, continued stabilization of finances and implementation of the strategic plan. Capital fundraising by the board continues to be successful as seen by the newly completed Richmond Family Veterinary and Nutrition Center." - From the AZA Accreditation Commission Report







"The staff is engaged and committed to the mission, across all departments." - From the AZA Accreditation Commission Report







"As with the last inspection, finance continues to be an area of notable achievement for the organization. The revenue and program growth over the last six years has been significant and greatly improved financial stability as well as increased capital investment." - From the AZA Accreditation Commission Report







"While not open to the public in a traditional sense, the Endangered Wolf Center offers guided tours by appointment only to the public/members. Guest Services has a strong customer focus which is evidenced by the continued growth in the number of visitors and types of educational programming and special events offered to guests." - From the AZA Accreditation Commission Report




The Endangered Wolf Center is proud to continue as part of an elite group of zoos, aquariums, and conservation organizations that prove each day their commitment to the animals in their care, wildlife, and wild places.
"Our commitment and mission has always included ensuring the best well-being for the animals in our care, working on their behalf to save their species in the wild and to share our passion and knowledge through inspiring educational programs to grow awareness. It was rewarding to go through this inspection and recertification process and see that our team's hard work was recognized and celebrated," said Regina Mossotti, Director of Animal Care and Conservation.
So now you know – look for the AZA accreditation logo whenever you visit a zoo or aquarium as your assurance that you are supporting a facility dedicated to providing excellent care for animals, a great experience for you, and a better future for all living things.