The St. Louis Symphony Orchestra and Endangered Wolf Center joined together to create a new rendition of the popular musical piece, Peter and the Wolf.
Our ambassador maned wolf, Lucky, made a special appearance during their educational concerts!
 Lucky had a lovely time visiting Powell Symphony Hall, but that's not the end of this community partnership…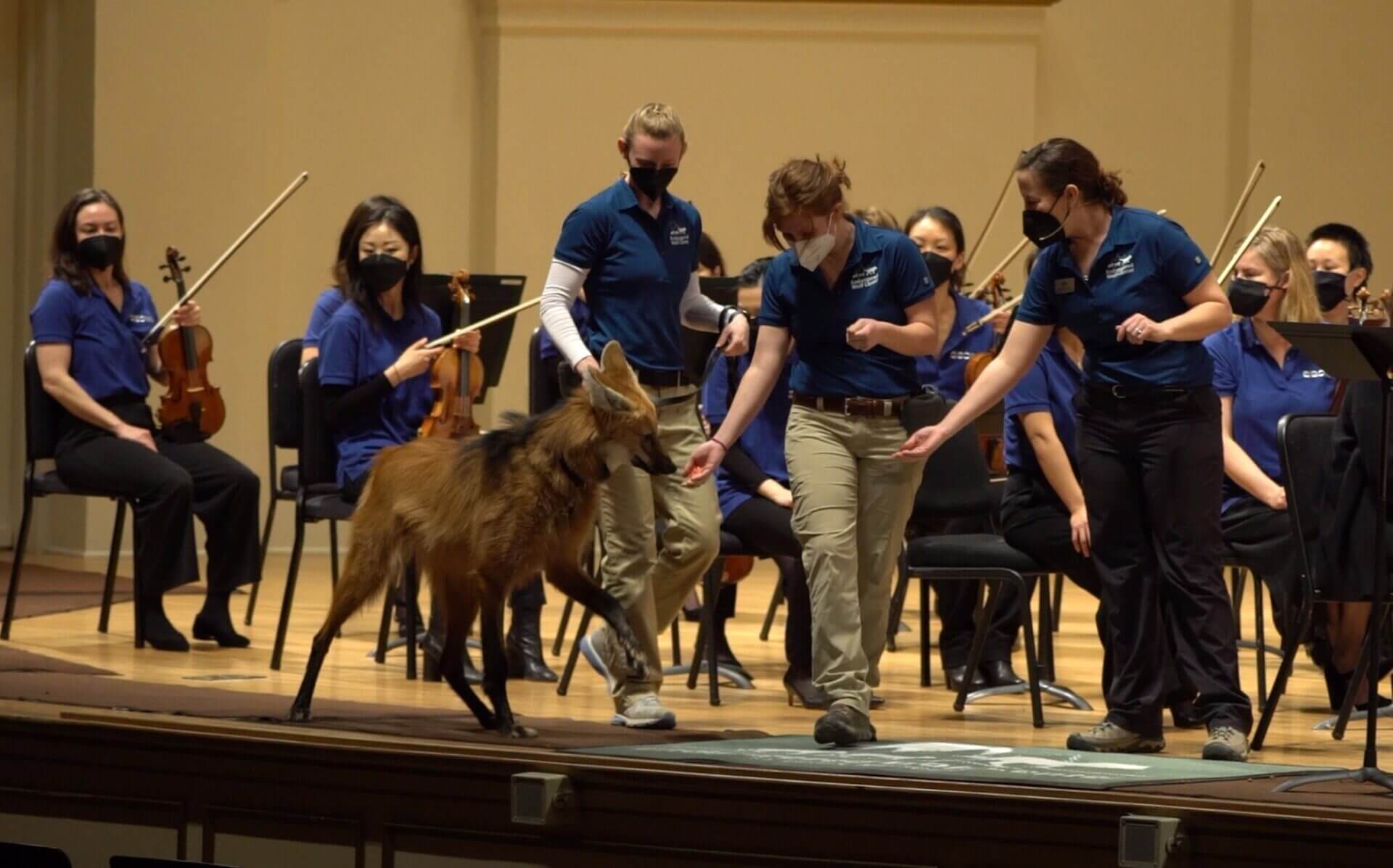 Teachers and families can register now for the Digital Concert of Peter and the Wolf, which features a special virtual adventure to the Endangered Wolf Center with SLSO Conductor Kevin McBeth and EWC's Director of Education, Stephanie Arne.
Register for the digital concert
When the St. Louis Symphony Orchestra approached us with this idea, we were impressed with their conservation-forward plans. Modernizing this classical musical piece, SLSO brought current conservation challenges to light through music in an engaging and educational way that inspires young children to make a difference for animals.
How "lucky" we were to have this opportunity! Maned wolves are unique animals, and not as closely related to other wolf species as you may suspect. Native to South America, these lanky members of the canid family have been nicknamed the "fox on stilts" due to their appearance.
Maned wolves like Lucky help us educate people about wolves by showing their similarities and differences to other wolf species.
Why is this so important? Many of our wolves are critically endangered, and because they have a chance to someday be released in the wild, they can't interact with humans. With Lucky, however, because of the unique story behind her name, we have the rare opportunity to touch the lives of children and adults that are able to meet her.
It's not every day you get to rewrite the story's ending for an endangered species, but with the help of SLSO, we are glad we could inspire future generations to love animals and music.
Learn more about this community partnership from the St. Louis Symphony Orchestra:
https://www.slsostories.org/post/reconsidering-peter-and-the-wolf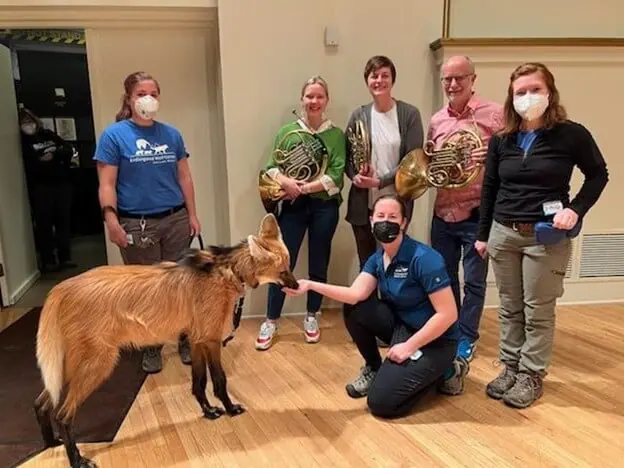 In Peter and the Wolf, the french horns play the theme of the wolf, so Lucky stopped by their orchestra section to pose for this photo with the musicians. Read Lucky's full bio.