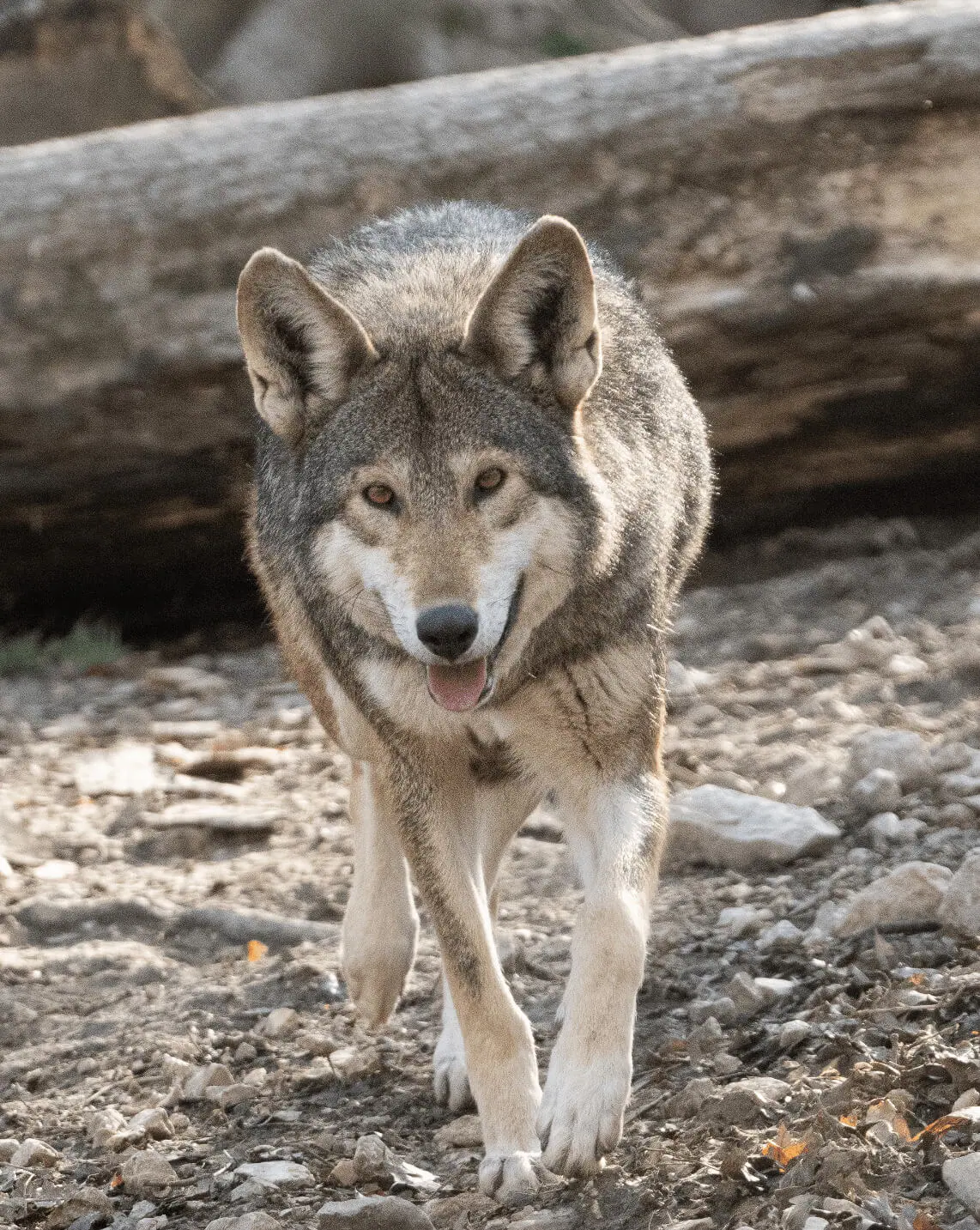 Artemis
Red Wolf
I am…a native of North America, and a member of one of the rarest animal species in the world.
I am Artemis
Artemis was born on April 14, 2015 to red wolves Kai and Paco. She has three siblings, one brother and two sisters. Overall, she is a beautiful wolf, with golden eyes and a light brown-red coat. Her demeanor is shy, but inquisitive. Often, the whole pack will hang back until it gets quiet and the frogs start croaking, and then they can be seen on the webcam exploring and playing. They are extremely photogenic, and keepers have gotten some amazing trail camera photos after the staff leave for the day.
Artemis arrived at the Center in October 2015. Previously, her family was living at Niabi Zoo in Coal Valley, Illinois. Within a week of moving here, they experienced venison for the first time! They were all hesitant and unsure of the deer at first, but once they realized what it was, everyone joined in and ate as a family. They even saw Kai trying to bury extra venison legs, with all of the yearlings following behind her and digging them back up!
Unfortunately, Kai passed away suddenly in January 2017. Paco howled in mourning for several days. Now, the pack is always up to something, and they are always a joy to watch. When a howl starts, the pack will get excited, tails wagging, and group together. Often Paco will initiate some play with Artemis and her siblings. Then, he will start howling and the two-year-olds will follow. It is hard to watch without a smile forming on your face.
Artemis is also extremely interested in enrichment items that the keepers provide her. Salmon oil is always a favorite, and the whole pack initiates in investigating, scent rolling, and marking the area. Large five-gallon ice blocks are also a winner, especially during the hot summer. The pack has been seen licking them and trying to push them down the hill!
Artemis and her family have become a favorite stop along the tour route for guests. They are truly a joy to watch, and we could not imagine the Center without them. They have helped inspire the many guests on our tours to learn more about the red wolf recovery program and what they can do to help.