Ernesta, a critically endangered Mexican ​wolf who was born and raised at the Endangered Wolf Center near St. Louis before being released into the wild, has been killed. The Endangered Wolf Center on Friday, Feb. 13, issued the following press release:
For more information, contact Regina Mossotti at 636-938-5900 or [email protected]
She is the Director of Animal Care and Conservation at the Endangered Wolf Center
CRITICALLY ENDANGERED MEXICAN WOLF KILLED IN NEW MEXICO
NEW MEXICO, USA: The Endangered Wolf Center is sad to report that Ernesta (AF1126), a Mexican wolf who was born and raised at the Center and who was released into the wild last summer with her four pups and her mate Wesley (AM1051), was killed in New Mexico in January. The U.S. Fish and Wildlife Service is investigating to determine the cause of death. Ernesta was the alpha female of the Coronado Pack. Mexican wolves (Canis lupus baileyi) are critically endangered, with only about 100 left in the wild. They can now only be found in Arizona, New Mexico and Mexico.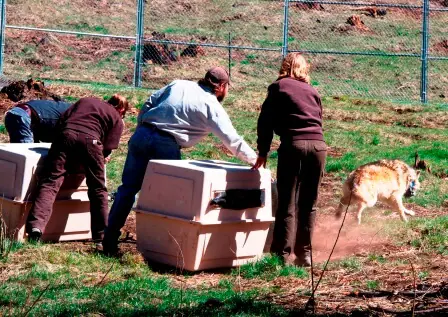 "Wolves play a vital role in maintaining a healthy ecosystem which also benefits humans. With critically endangered species, losses like this are devastating to the recovery efforts," said Virginia Busch, Executive Director of the Center.
Ernesta was born in 2008 at the Endangered Wolf Center and was raised there before moving to the Brookfield Zoo in Chicago. Her mother Anna and other members of her family still live at the Center. Ernesta made history last spring when two pups (f1346 and m1347) from her litter of six were involved in the first-ever cross-fostering of Mexican wolf pups in the wild, carried out by the Mexican Wolf Interagency Field Team. Cross-fostering is when very young pups are moved from one litter and placed into a different, similar-age litter with the hope that the receiving pack will raise them as their own. As of today, at least one of the two pups are confirmed as thriving in the Dark Canyon Pack.
"It is heartbreaking to hear of Ernesta's death. But we are so grateful that her legacy will live on in the wild with her pups," said Regina Mossotti, Director of Animal Care and Conservation at the Center.
Three of Ernesta's remaining four pups are known to have survived and have been seen with her mate, Wesley, who also formerly lived at the Endangered Wolf Center. The status of her other pups is unknown.
The release of Ernesta, her pups and Wesley last July in New Mexico was considered a major step in the right direction for conservation of Mexican wolves. They helped not only increase the population size, but also brought much needed new genetics into a severely bottlenecked population. There are genetics in the captive population (which is made up of 248 individuals as of 2014) that are not represented in the wild and this is why more releases like Ernesta's are so important to keep the wild population healthy.
For more information contact: Regina Mossotti, Director of Animal Care and Conservation at the Endangered Wolf Center at 636-938-5900 or [email protected]
About the Endangered Wolf Center
The Endangered Wolf Center in St. Louis, Mo., is the premier wolf conservation, education, reproduction, and research center in the United States. Its mission to preserve and protect Mexican wolves, red wolves and other wild canid species, with purpose and passion, through carefully managed breeding, reintroduction and inspiring education programs. The Center was founded in 1971 by Marlin Perkins and his wife, Carol. Perkins is best known as the longtime host of television's "Mutual of Omaha's Wild Kingdom."
The Endangered Wolf Center is an Association of Zoos and Aquariums (AZA) certified facility, and has been called "a cornerstone of the Mexican wolf program" by the U.S. Fish & Wildlife Service. It has been the birth site for 170 Mexican wolves, and every wolf in the wild can trace its lineage back to the Center. For more information go to: www.endangeredwolfcenter.org and follow us on Facebook and Twitter. To follow what is happening with the wolves in the wild check out: http://www.fws.gov/southwest/es/mexicanwolf/brwrp_notes.cfm