An evening to relax and recharge in nature
Practice Yoga in Nature to the Sound of Wolves
The Endangered Wolf Center has partnered with Yoga Buzz to hold an exciting yoga event series. Enjoy a grounding yoga session in a calm and peaceful setting, then turn your OM into a howl with wolves.
Tour Highlights
Supported by the forest
Science is showing the immune-boosting benefits of spending time in the forest. The tradition of "forest bathing" has been practiced for years in Japan. Whether it's the aroma of the forest, the stress-reducing effects of being in nature or in our case, the call of the wolf, there's something truly special about bringing your yoga practice to nature. We hope you'll join us.
A new experience each month
This event includes a tour of our animals as well as a yoga class. The tour route varies each month, so be sure to sign up for more than one session to get the full experience.
Ticket prices
Tickets are $40 per person. Call 636-938-5900 to sign up or book online.
Our Center remains open in limited capacity by reservation only as a safety precaution. We continue to work on exciting ways to bring our pack to yours, including virtual tours, educational webinars with experts in their field, and more.
LENGTH
3 Hours. Please arrive 15 minutes before start time at our gate. Evening includes yoga and a tour of our world-renowned Center.
DATES
Select dates on Friday evenings weather permitting. Please contact 636-938-5900 or [email protected]
TICKET PRICE
MEMBER
NON-MEMBER
Adult (15+)
$19
$21
Active/past military and first responders
Free
Free
Children
(ages 4-14)
$17
$19
Age 3 and under
Free
Free
Minimum Charge
$84
$84
For member discounts, please call your membership office at 636-938-5900. Learn more about our membership options.
RESERVATIONS
Required, 24 hours advance recommended. Book Online or call 636-938-5900. 
SERVICE ANIMALS
At this time, we regret that we are unable to accommodate service animals during our tours. If you or a group member have a special need or mobility need, please contact us in advance.
Book a private wolf howl for up to 75 guests, ideal for youth groups, scout troops, school groups, team building, birthday parties, graduation, retirement parties, anniversary celebrations and more.
LENGTH: TBD
DATES: Please contact the Center at 636-938-5900 for availability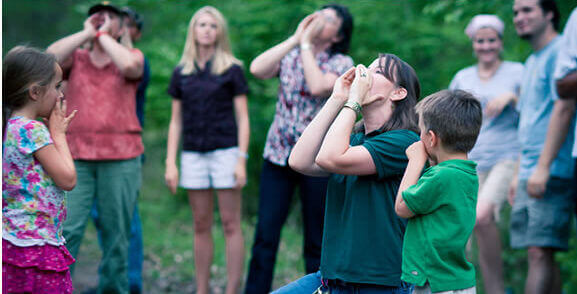 This popular evening program is a fun and educational opportunity to listen to unique and entertaining stories about wolf communication, then try your skills by howling with the wolves.
LENGTH: 1 hour
DATES: Select evenings, please contact the Center at 636-938-5900
I haven't been on my mat in too long, and this was such a fun way to pick up my practice again. This place feels so tucked-away in nature…and then the wolf howls. It was so restorative.