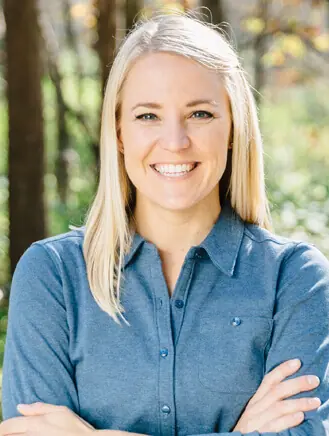 Stephanie Arne
Director of Education
I am…a passionate promoter of animals big and small, and have traveled to more than 20 countries to share their stories through television and today through my role at the Endangered Wolf Center. Across every continent, this I know for sure: the more we learn about the amazing animals who share our planet, the more we love them and invest in their future. It's a small world, after all.
Hi, I'm Stephanie
Stephanie Arne is an accomplished wildlife conservationist and the former host of Mutual of Omaha's Wild Kingdom. She has worked in 20 countries and filmed stories on everything from polar bears to penguins.
Stephanie has a strong connection with nature. She embraces the importance of living as a part of the natural world, rather than separate from it. And she knows that sharing that connectivity is critical to protecting nature on a global scale.
She has worked with and learned from biologists, conservation leaders, CEOs, farmers and fishermen in Africa, Australia, Japan, Thailand, Malaysia, New Zealand, Papua New Guinea and the United States. 
As a wildlife conservation professional, Stephanie is committed to raising awareness about the disconnect between modern society and the natural world. And she's determined to explore and share how each of us can use our specific talents and skills to bridge that gap to make our planet a healthier place for generations to come.
Stephanie brings a long-standing commitment to education and engagement of adults and children to understand the importance of conservation and endangered animals. She first met the Center's team while filming a story for Mutual of Omaha's Wild Kingdom online series a few years ago, a show made famous by its original host and our Center's founder, beloved zoologist Marlin Perkins.
In addition to her position at the Endangered Wolf Center, Stephanie is the wildlife and conservation ambassador for CuriosityStream and a public speaker on global efforts in conservation and sustainability. Her insight has earned her a seat on the International Union of Conservation Nature's (IUCN), Education and Communication Commission.
Stephanie is also a Deep Elite Ambassador for Scubapro, was named Ambassador for the Planet by the Wyland Foundation was profiled in Dive Alert Magazine, joined the advisory council for the Alaska Sea Life Center and became co-founder of The Creative Animal Foundation.
Stephanie is a regular on Harry Connick Jr.'s daytime show, "Harry!" and appeared on The Weather Channel, and Animal Planet's, "Animal Nation" with comedian, Anthony Anderson. She's also been featured on an episode of the HGTV series "Tiny House, Big Living", kicking off the tiny house tour for the Creative Animal Foundation.