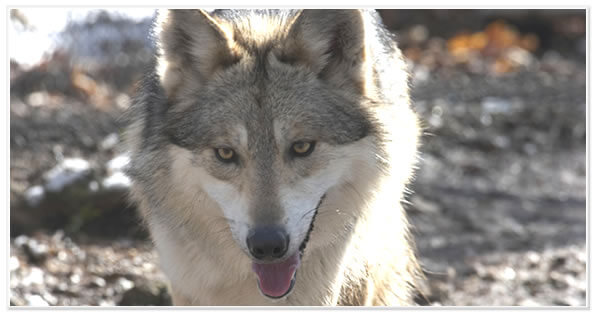 I am…calm, patient, caring. As a mother, I've taught the next generation valuable traits they'll need for themselves and our species to survive.
I am Abby.
Abby, one of Anna's daughters, was born in 2004 into a large litter of pups. Later that year, she suffered a fracture to her rear left leg at the growth plate – a common injury in large breed dogs.
Over time, Abby unfortunately filled the role of omega in her pack. Omega wolves are at the bottom of the pack hierarchy, often chased and harassed by the others, and typically the first to leave their pack in the wild.
For her safety and well-being, Abby was moved out of her pack and joined Rocky, a vasectomized male, as a companion. Abby and Rocky were very good for each other and were quite active in investigating their enclosure and other neighboring wolves.
In 2009, Abby moved to a new habitat where she met Perkins. The two hit it off and began to build a wonderful bond.
In 2010, Abby gave birth to a litter of five healthy pups. She was an attentive mother and took very good care of the pups, becoming an awesome first-time mom.
For a long time, Abby and her daughters were the Mexican gray wolves visible on our webcam.
In winter of 2014, Abby and three of her daughters traveled to Zoologico de Guadalajara to help further Mexico's conservation education efforts.