Our Junior Volunteers are an integral part of our operations at the Endangered Wolf Center!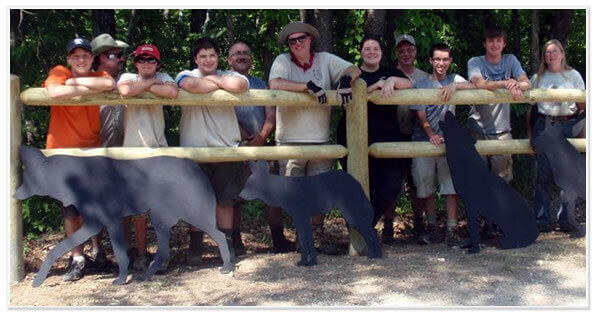 This program is for teens who are interested in conservation efforts, educational programming, wolves and other canid species, or are looking to give back to the community. Our Junior Volunteer program has very flexible scheduling and has regular, as well as occasional, volunteering opportunities.
Opportunities for Junior Volunteers include:
– Creating enrichment for our animals.
– Helping with our special events, such as Wolf Fest.
– Assisting with education programs, including our PredaTours, scout programs, and birthday parties.
– Helping with evening programs, such as Wolf Howls and overnights.
– Assisting with summer camps.
Requirements:
– You must be between 14 – 17 years of age.
– Must be punctual, responsible, and have a willingness to learn new things.
How to Apply:
1. Fill out our online application by clicking here.
2. We will review your application and get back to you within 1 – 2 weeks.
Junior Volunteer Application
If you have any questions about our Junior Volunteer program, please contact Lauren Pickard at [email protected].
If you have a school group or club that is interested in volunteering as a group, please contact Lauren for a group volunteer application.