Why the Wild Needs Wolves
the time is now
Nature depends on apex carnivores and keystone species to survive and thrive. Wolves are both, which is why the wild needs wolves – and why we need you.
SAVING ENDANGERED SPECIES
WILDLIFE EDUCATION SINCE 1971
Leading the Pack in Endangered Wolf Recovery
Did you know? Every Mexican wolf in the wild today can trace his or her roots back to the Endangered Wolf Center. Founded in 1971 by beloved zoologist and 
Mutual of Omaha's Wild Kingdom 
host Marlin Perkins and his wife, Carol, our Center continues to lead the pack with pioneering science, cross-fostering, reintroduction and inspiring educational programs.
To kick off our goal of raising $100,000 for wolves by Dec. 31st, the Kevin Beckmann Charitable Trust is doubling every dollar donated for our first $25,000.
Upcoming Events
Here are some family-friendly things to do in St. Louis
Throughout the year, our Center plays host to all kinds of special events. Here's what's coming up next. Click through to reserve your spot or purchase tickets.
Calling all holiday shoppers: The gift shop at the Endangered Wolf Center is your one-stop shop during this busy holiday season. We're here to meet all of your gift-giving needs through our offering of unique collectibles, nature-themed apparel, and other sustainably-sourced merchandise.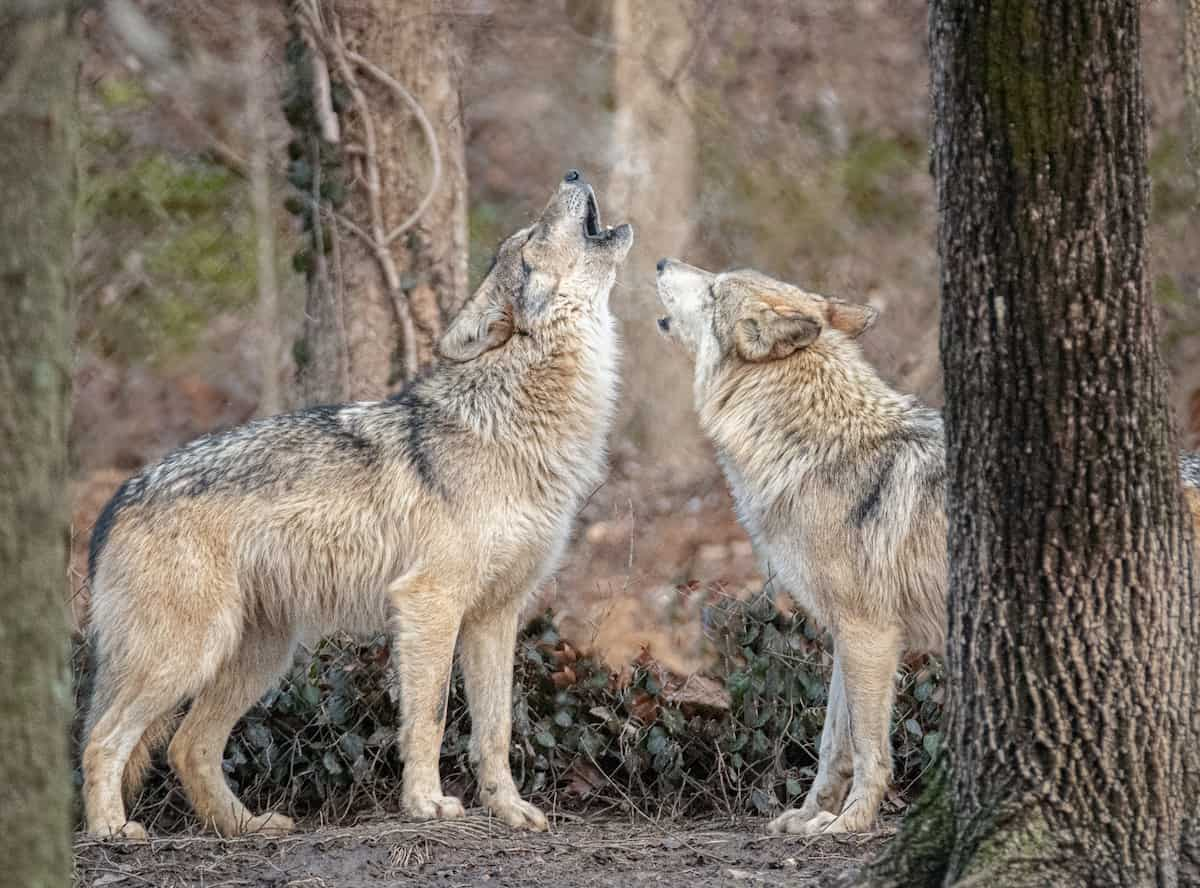 Join the Endangered Wolf Center during the holidays with an experience unlike any other. Our Howliday Howls provide guests with a unique opportunity to connect with nature while celebrating these fun and festive days.
Get to know the Endangered Wolf Center pack on a tour, during one of our many events, or by learning about our animals online.
HOWL WITH THE WOLVES
During evening educational programs, visitors have the chance to hear our wolves howl.
Join one of our scheduled Evening Wolf Howls or call about our two-hour Private Campfire Howls for groups or special events.
Directions
The Endangered Wolf Center is located about 20 miles southwest of St. Louis at the Washington University Tyson Research Center. Our address is:
6750 Tyson Valley Road,
Eureka, MO 63025.
From Interstate 44, take Exit 269, the Beaumont-Antire Road exit. We are located on the north side off I-44. Turn right onto Tyson Valley Road. Please call or visit our Tours page for tour times and special events. Directions
However your heart can hear the call of the wolf, we welcome you to be a part of our pack. From individual donations to corporate sponsorships, monthly memberships to sharing your time and talent as a volunteer, we hope you'll join us.
A huge howl out to all of our members, sponsors, volunteers and donors who help make everything we do possible.
Double Your Donation until Dec. 31
From the tips of our ears to the bottom of our hearts, your support means the world to us. We're sending howls of thanks.
become a wildlife champion
Happy Howlidays! We've curated the perfect gifts that keep giving –  to your loved ones and the planet. Every gift you purchase through the Endangered Wolf Center Gift Shop helps us continue to provide expert care, veterinary services, education, and nutrition to the...
From a long legacy of "firsts" in our field to history-making success stories, the Endangered Wolf Center has earned a number of prestigious awards and recognition. We are certified by the Association of Zoos and Aquariums (AZA), a recognition held by fewer than 10% of the zoos, aquariums and other animal exhibitors licensed in the US.
E-Newsletter and Updates
---
Yes, I would like to receive emails from Endangered Wolf Center.
One of the biggest hidden gems in STL for animal lovers. The tour guides are extremely knowledgeable and friendly. A great place to take the kids to help them learn about animal conservation!
Morgan McCourt
2023-11-20
Nothing like it where we live. I didn't know there were so many different kinds of wolves. The guide was very informative and covered a lot of information in a short time on the endangered tour. Our kids ages 7-14 enjoyed it. And the adults did too!
Great experience for the whole family
Visiting the EWC was a memorable experience for my granddaughter and I. We watched a brief video about the mission of the center then headed outside to view the foxes and wolves. Paige, our tour guide, was friendly and full of interesting facts about the animals and EWC.
Be sure to book a spot for the tours ahead of time via the website. Volunteers was very knowledgeable and friendly -- i learned a lot! And the gift shop was great, too.